Receive operational and security alerts* directly from your Robomow to your mobile device, anywhere in the world.
For example: "Your robot has been removed from the designated operating area"

Benefit from Superior Customer Service and fast repair thanks to a constant upload of technical data** from your Robomow.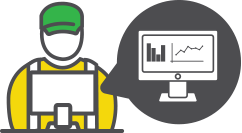 (*) Alerts will be sent as push-notifications. You will need to allow push-notifications on your mobile device in order to be able to receive the alerts.
(**) Subject to your approval