Robomow is equipped with an anti-theft feature, which sounds an alarm in the event of unintended use or removal of the mower from its designated area. The anti-theft function prevents anyone from using or driving Robomow unless a valid PIN code is entered or the mower is unlocked via a registered mobile device.
RX models
The theft-protection function can be activated only via the mobile app.
To enable theft protection, navigate to the main menu at the top left corner of the main screen.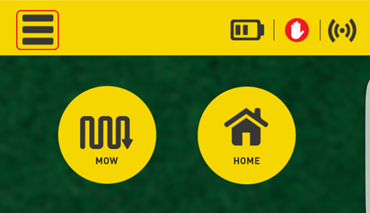 Once there, go "Lawn & Mower Settings" and select the "Mower" tab.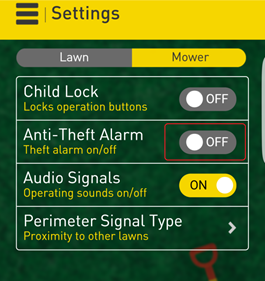 Set the "Anti-Theft Alarm" switch to the ON position. The "Lock" indication on the mower will start blinking periodically.
When theft protection is enabled, you first need to connect to your Robomow with a registered mobile device and unlock it before you can operate it. No PIN code is required.
Your Robomow will automatically relock itself after 30 minutes of inactivity.
If the theft alarm is activated, it is required to connect to the mower with the registered mobile device. Once connected, the alarm will be automatically neutralized.
It is impossible to switch Robomow off as long as theft protection is enabled. In order to switch it off, you first need to unlock it with a registered mobile device.