RS/RC models
Robomow's mowing schedule is defined by three major parameters:
Lawn area
Inactive times
Mowing frequency
The lawn area defines the required mowing time for your lawn – this is the duration of a single mowing cycle. The inactive times define the hours and days when Robomow will rest. The mowing frequency parameter defines how often a mowing cycle is repeated (once a week, twice a week, etc.).
During active times, Robomow will continuously alternate between mowing and charging until it completes the entire mowing cycle. After a mowing cycle is completed, it will stay in the Base Station until the next Mowing Cycle should start, depending on the configured mowing frequency. By default, Robomow completes two Mowing Cycles per week in order to keep your lawn healthy and looking good. However if your lawn requires more maintenance time, you can easily adjust the time Robomow runs in a single Mowing Cycle, by setting the "Mowing Hours (%)" parameter.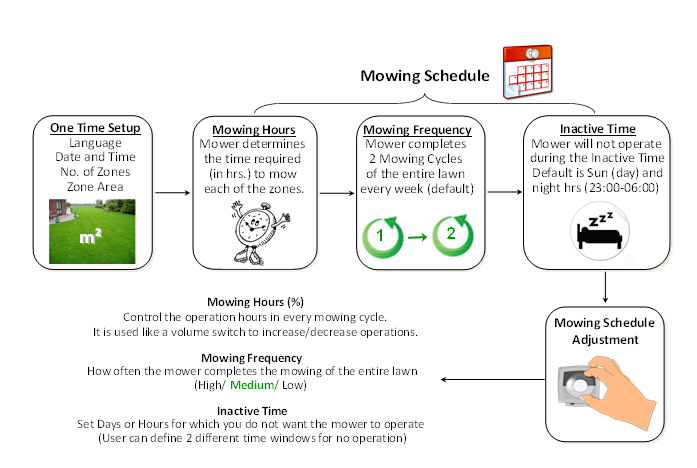 RX models
The mowing schedule of RX models comes disabled by default. Enabling and setting the mowing schedule for RX models is super easy and straight forward. All you need to do is download the Robomow App mobile application from the Google Play store, connect to your Robomow and navigate to the Mowing Schedule screen (Menu --> Lawn Settings).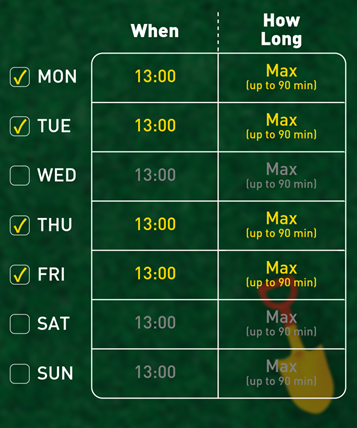 Select the days on which you want your Robomow to operate. Then, inside the "When" column, select the preferred hour for starting a mowing operation in a particular day. Then select a required duration for a particular scheduled mowing operation in the "How long" column of the Mowing Schedule table.
The extent of mowing depends on the season and on the size of your lawn. We recommend the following weekly mowing times per lawn size in peak season.
Lawn size

Recommended weekly mowing times

Up to 50 m2

2 hours

50 -100 m2

4 hours

100 -150 m2

6 hours

150 - 200 m2

(RX20u / RX20 Pro only)

9 hours